Today we're excited to introduce one of our new partners, Invisible Shoes!
Working with former lead designers from Nike and Reebok, Invisible Shoes crafts light and simple running sandals known as Hauraches. Here's the creator, Steven Sashan to tell you more:
Some of the cool perks associated with the sandals:
Contoured to fit your foot, without providing unnecessary support
"High-abrasion" material lasts a long time
Very flexible (great barefoot feel) while still providing strong protection
Holds it shape better
Slight "toe spring" keeps the sole closer to your foot
Sized for feet from 5? to 13? long — many people can use the outsole without trimming! (and there's less waste if you do)
Elegant shape with subtle arch and heel cup
Easily customized with just a pair of kitchen scissors
Topsole pattern feels soft while providing traction
Reinforced, extended, and elevated ankle holes keep lace from wearing out
Dual-Chevron tread pattern provides traction under any condition
Material includes some recycled stock
Hauraches come in two main styles; 4mm or 6 mm. Each provides something very close to barefoot, if you're new it's advised to start with the 6mm, if you're more experienced, the 4mm is your preferred choise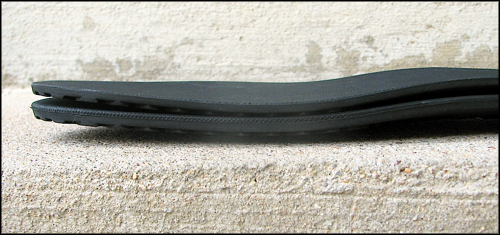 Since the shoes are basically corded sandals, many people have questions about the viability of actually running in the Invisible Shoes. Most runners report that they notice the string at first, but the sensation quickly vanishes as they get used to the shoes. The cord's tightness can also be changes and altered to fit one's preferences. Even the know at the bottom of the sandal is hardly noticeable as it's not particularly thick. The Vibram sole material also tends to flex to the know as time gives the shoe a flatter shape.
Since the shoes look rather flimsy many people worry that they're likely to wear out. Invisible Shoes actually provides a 5,000 mile warranty as a way to prove to customers that they believe in their shoes and they've yet to have a client wear out a sole yet. The sandals actually take a relatively long time to wear out and runners have been consistently pleased with the duration of their Hauraches. Many runners after switching find that they enjoy the shape of the sandals more as they aren't stymied by enclosed toes (especially if your feet don't conform to the typical Vibram Five Finger shape). Barefoot runners who are looking for a bit more freedom may find it here.
One question that's on many people's minds is how to actually run in sandals or Hauraches. The website provides videos detailing not only how to run in the shoes, but even how to make your own. The shoes are highly customized to each person. Their simplicity allows them to fit a wide variety of situations. They're also much cheaper than traditional minimalist shoes or barefoot running shoes, running a price between $15 to $40 depending on sales and types. You're not risking much by investing in a pair of Hauraches.
All in all it's worth checking these shoes out. Their main website can be found here. Tell us what you think in the reviews or comments section!